TOP > 2017年2月
月別
2017/02/26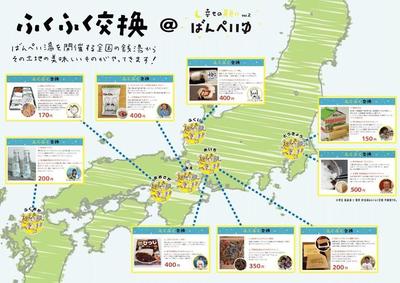 The "Happy Yellow Banpeiyu Bath" is a sento event which contains the banpeiyu fruit, a cultivar of pomelo which produces extremely large fruits. When you go inside of the sento, you can experience your bath with the banpeiyu fruits.
Banpeiyu fruit is known as the "King of Citrus", it's said that the fruit possibly originated from the Malay Peninsula and it was introduced in Japan via Taiwan in 1920 by a botanist from the Kumamoto prefecture. A trial of banpeiyu cultivation started in 1935 and the Kumamoto climate was found to be suitable for the cultivation of the fruits.
In average the weight of the fruits is around 1,4kg but in 2005 a banpeiyu fruit became the world's heaviest pomelo, presented by Seiji Sonoda from Japan for the Guinness World Record at the Banpeiyu Competition in Yatsushiro(Kumamoto). The specimen weighed 4.8597 kg (10 lb 11.3 oz) with a circumference of 83.5 cm (32.8 in).
This year is the second year for the event, 11 sentos across Japan participate in this event to give you an unique and exciting banpeiyu fruits bath with a gorgeous smell.
The event is about "sharing" and "connecting", this is not only a link between the sento across Japan but it is also showing the connection between the city, the sentos and the importance of each area.
Banpeiyu bath participating sento:
◯ Nishikoenyokujo, Fukuoka (Fukuoka prefecture):
http://fukuoka1010.com/fukuoka/nishikouen/
【February 18th, 20th】
◯ Ichi no yu, Iga-ueno (Mie prefecture):
http://ichinoyuiga.com/
【February 25th,26th, 27th】
◯ Sugitoyokujo, Ichinomiya (Aichi prefecture):
http://sugitoyokujyou.com/
【March 2nd, 3rd 】
◯ Kiraku-yu, Kawaguchi (Saitama prefecture)
http://tokyosento.com/kawaguchi_kirakuyu/
【February 25th, 26th】
◯ Heiden onsen, Nagoya (Aichi prefecture)
http://aichi1010.sakura.ne.jp/higasi/heiden.html
【February 25th, 26th】
◯ Hakusan Onsen, Nagoya (Aichi prefecture)
http://aichi1010.sakura.ne.jp/nisi/hakusan.html
【February 25th, 26th】
◯ Taki no yu, Fukui (Fukui prefecture)
http://www.huroya.com/
【March 4th, 5th】
◯ Asahi-onsen, Sumiyoshi Osaka
http://asahi-onsen.com/
【February 24th,25th, 26th】
◯ Myoho-yu, Toshima-ku Tokyo
http://www.toshima1010.org/sentozyoho/459.html
【February 25th, 26th】
◯ Saito-yu, Arakawa-ku Tokyo
http://www.saito-yu.com/
【March 4th, 5th】
◯ Ume no yu, Arakawa-ku Tokyo
http://arakawa-sento.jp/梅の湯/
【February 25th, 26th】
Illustration: Yone http://yone.in/
Event planner: Masami (Otomeyu no Tashinami)
1